TAIPEI, TAIWAN, (Jan 28th, 2013) – a Global Embedded Solution provider. Minnotek is unveiling a new dynamic Digital Signage Player.
Intel® Celeron® Processors 847
Intel® HD Graphics

Low power consumption

Compact and fanless

USB3.0 Support

Optional Wi-Fi, serial port, TV Tuner, AV input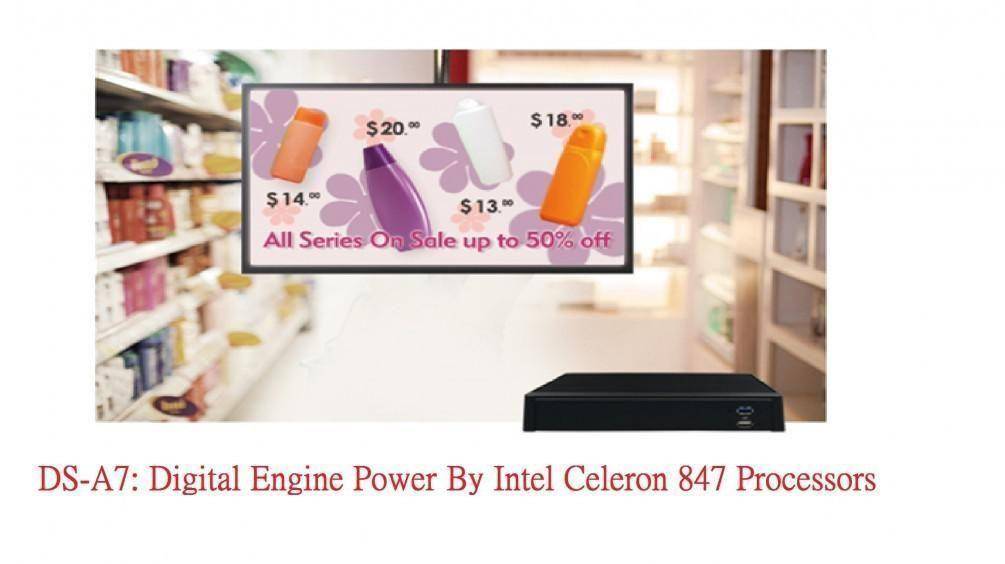 DS-A7 digital signage player is designed to offer excellent value for money to independent retailers and small and medium enterprises. The DS-A7 features impressive graphical performance, a low maintenance fanless design, accelerated content and system management, and support for a wide variety of operating systems. The DS-A7 can therefore help cost-sensitive users display compelling advertisements while reducing costs of system procurement and maintenance.
The DS-A7 is based on Intel® Celeron® Processor 847 integrated with Intel® HD Graphics and supports up to 8GB system memory. The DS-A7 has exceptional responsiveness for high definition multimedia playback and can drive two displays via HDMI and VGA ports without the need of separate graphics card.
To allow for fast content update and system upgrade, the DS-A7 incorporates the industrial-leading USB 3.0 as standard. This feature enables data to be transferred at 5GB/s which is ten times faster than USB 2.0, thus reducing the time required to update large files and images. LAN and Wi-Fi connections are both supported for efficient network management.
With support for a diverse variety of OS options including open resource Linux and Microsoft's Windows®, the DS-A7 allows users to select between Ubuntu 12.04, Fedora 17, Windows® Embedded and even Windows® 8. In addition, the DS-A7 is encased in a compact and fanless chassis which ensures dust-free and reliable operation. In this sense, the versatile DS-A7 is a feature-rich digital signage player which is designed for long-term operation with the minimum amount of maintenance.
Minnotek Inc is a leading provider of advanced industrial and embedded computing platforms. Committed to innovative engineering. Minnotek provides integrated solutions, hardware and services for premier OEM/ODMs and system integrators worldwide. Reliable and high quality computing platforms include industrial systems, displays, rugged tablets, medical tablet, medical panel, bedside infotainment, digital signage etc. Minnotek also offers customized end-to-end services from initial product conceptualization and product development to volume manufacturing and after-sales service program.